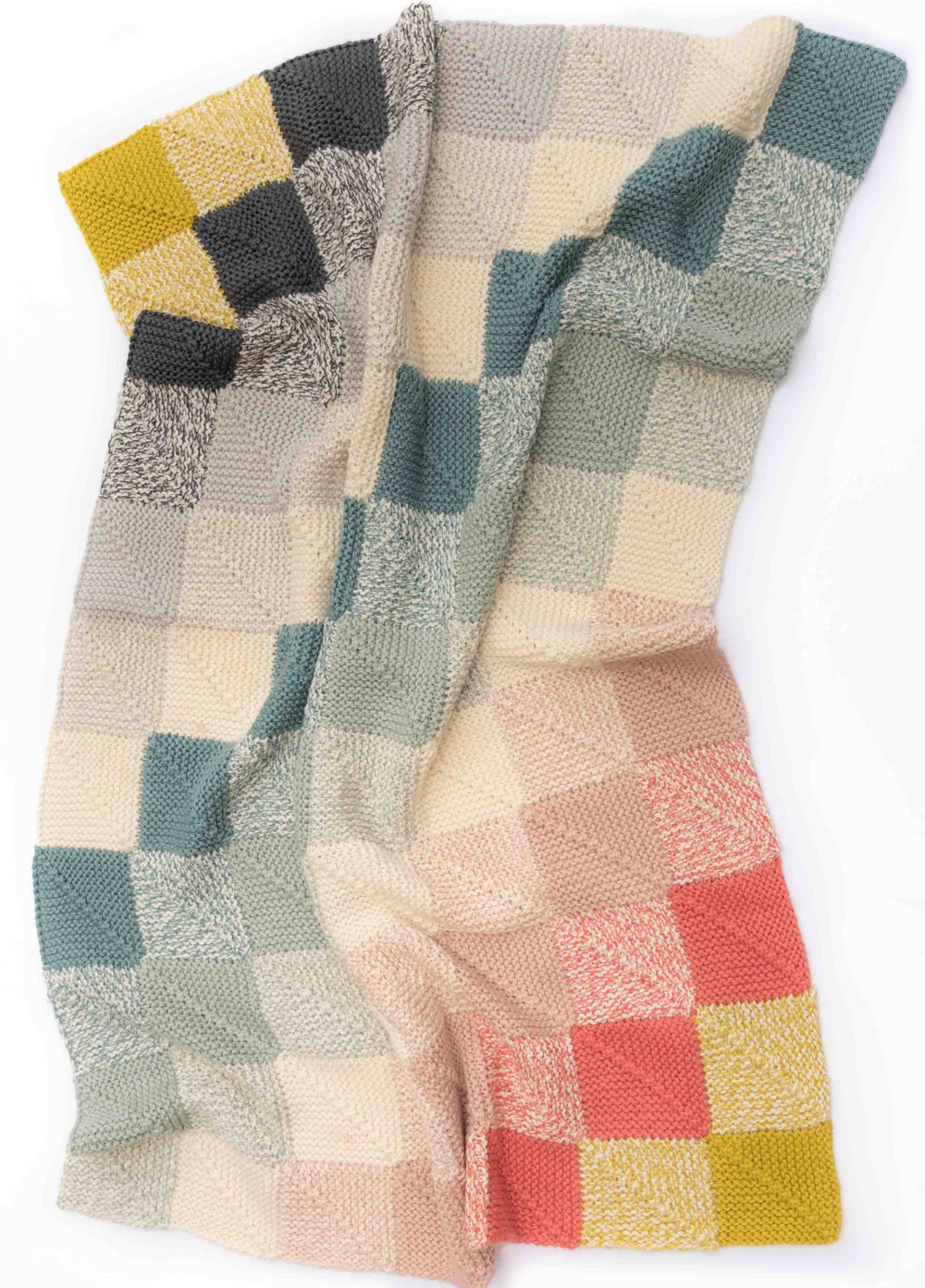 I hope this finds you safe and healthy.  All this sheltering at home has made me go into nesting mode.  I am cooking more and find myself spending a lot of quality time with my family.  As I look around my house, I've been thinking about the Danish term "hygge" that was so popular a few years ago.  The New Yorker describes "hygge" as "a quality of cosiness and comfortable conviviality that engenders a feeling of contentment or well-being." 
I've had home knits on my drawing board for some time now because I think Chibi Paka Chunky is the perfect yarn choice.  The chunky weight gives pillows and blankets a heft that is what you want and expect from a knitted accessory.  This also takes blanket knitting from a never-ending project destined to be put aside to an actual manageable undertaking.  The feel of these items is heavenly…so soft to the touch and yes, cozy.  Some people find the color palette very kid-oriented, but I think of these colors as happy and sunny, dare I say "uplifting"?  I don't know about you, but I can always use a little more sunshine in my home.
Our Hachi Blankie is one of our best-selling kits to date.  The honeycomb stitch pattern is so simple—slipped stitches means you only work one color at a time.  But what really makes this version stand out is the color palette.  But we've also put together kits with custom color palettes for many knitters—we'll even do a mock-up so you can get a feel for what it will look like.
With this in mind, I set out to make another blanket using the same colors.  I have been a huge fan of Purl Soho ever since I first started knitting.  I love their design aesthetic and use of color.  I have visited the iconic retail store in Soho, and I am lucky enough to live locally to their distribution warehouse in Irvine, CA. So I've had their Mitered Corner Blanket rolling around in the back of my mind ever since I first saw it in their newsletter.
My version uses all of the colors and their twist counterparts of Chibi Paka Chunky.  Mitered squares are so easy—worked in garter stitch.  And the squares are attached by picking up stitches along the edges of other squares, so new sewing!
Before I actually started the project, I did a color layout in Illustrator.  My goal was to get optimum yarn usage, so I played around with a lot of combinations. 
The finished product consisted of 88 squares and took 26 skeins of yarn for a finished measurement of 32" x 44".  Here is a PDF that breaks down the order of which you make your squares, needle size, yarn requirements, etc.  The Purl Soho Mitered Blanket free pattern can be found here.
Yarn bundles can be purchased here for 10% off single-skein prices.
I'm working on more home projects.  It's so fun and rewarding.  Stay tuned…
« Older Post Newer Post »